The old adage is that once a woman hits her 30s in the entertainment industry, she should consider retiring — not a word for male counterparts, who can age gracefully and enter the "silver fox" phase without anyone protesting. If one pop culture icon is changing the way we see women thriving at any age, it's Brooke Burke. The model and former "Dancing With the Stars" host has been on the scene since the early 2000s and has made a name for herself as a television host. She is much more than meets the eye, and her latest venture with Tru Niagen Immune supplements — and her role as CEO of Brooke Burke Body — shows how dedicated she is to wellness for women everywhere.
Burke is in a golden phase of her life. Having overcome some major hurdles — changing relationships, raising her kids — Burke was faced with yet another obstacle: cancer. When she received her diagnosis in 2012, it rocked her world of its axis. So how did the "Dancing With the Stars" alum overcome such a difficulty and continue growing into the wellness enthusiast we know today? We sat down with Burke for an exclusive interview to chat about her story.
Brooke was 'shocked' to find out about her diagnosis
Any disturbing medical news is difficult to wrap your head around, but cancer is another beast. When Brooke Burke found out the devastating news, she stopped in her tracks. In our exclusive interview, Burke divulged what it was really like to get such a life-altering diagnosis, given that she had spent years trying to keep her health and wellbeing at the front of her mind.
"I was shocked to hear the word 'cancer,'" Burke told us. "I take such great care of myself as much as I can, but sometimes, there's something greater and bigger than us that comes along." As she elaborated, Burke told us that an integral part of her recovery was "being a great patient" and "putting together a respectable medical team." But that combination can only go so far, Burke said.
"Don't skip your yearly physicals. Don't skip your mammograms," Burke encouraged. "We have access to so much information. The more we know about our body, the more we can take care of our body."
Brooke has a motivational message for people seeking wellness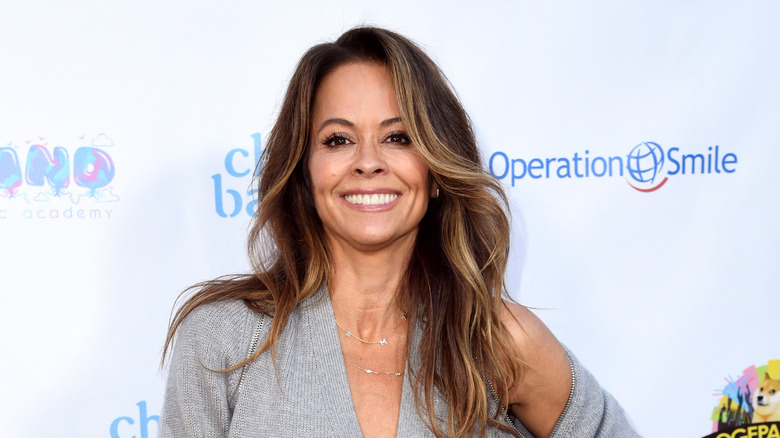 Brooke Burke had a mountain to climb when she battled thyroid cancer, but in her recovery and life in remission, she has made it a goal to encourage people to seek out fitness, wellness, and mental clarity no matter what it looks like. After reflecting on her cancer journey, Burke brought it back to fitness, and encouraged people to dedicate just 10 minutes of their time to movement.
"We don't have time to not take care of our body," Burke told us. "The shift in the last few years has shown us that we don't have to spend a lot of money, you can go on YouTube and get free content. My app's free for a week … You can work out in your office using a chair. You can use your living room. You can stay in bed and be mindful for five, 10 minutes in the morning."
Highlighting such resources as Headspace and Calm, Burke encouraged people of all ages to "combat stress" and take care of their bodies in a variety of different ways. For the "Dancing With the Stars" alum, it all comes down to mindfulness. "We always say 'sweat smart' at BB Body and that means being conscious of what you're spending, how you're spending it, what you're doing with your time, who you're spending it with," Burke said.
Tru Niagen Immune is now available at truniagen.com. To learn more about Brooke Burke Body, Brooke's latest ventures, and more, visit her website at brookeburke.com and follow her on Instagram.
Originally Published on thelist.com