As we get older and our bodies start to feel just a little bit more achy in the mornings, our skin becomes a little duller no matter what products we use, it sounds like time has caught up to us. As women, however, we know that taking care of ourselves from the inside out should be the priority. We shouldn't go for the cosmetic-only approach, which lasts as long as the ocean waves stay on the sand, and no one knows this more than Brooke Burke. The storied host, model, and "Dancing With the Stars" winner is determined to show people in all walks of life that wellness starts from within, and her new venture with Tru Niagen supplements is turning heads.
Burke will tell you that the notion of a "quick fix" is not on her radar. The fitness guru is determined to live life authentically, with balance and health at the forefront. Her partnership with the supplement company is one of a number of wellness-oriented ventures on her plate. From her partnership with Tru Niagen to her company, Brooke Burke Body, and her own approach to life after 50, Burke is just as determined to live her healthiest life now as she was when we were seeing her perform the foxtrot with Derek Hough. What does the "Entertainment Tonight" alum and mirror ball trophy winner think of life in the spotlight, women's health and wellbeing, her own health journey, and her ventures moving forward? We sat down with Burke for an exclusive, one-on-one interview where we asked everything we could.
Brooke Burke dishes about her new project and the benefits of self-care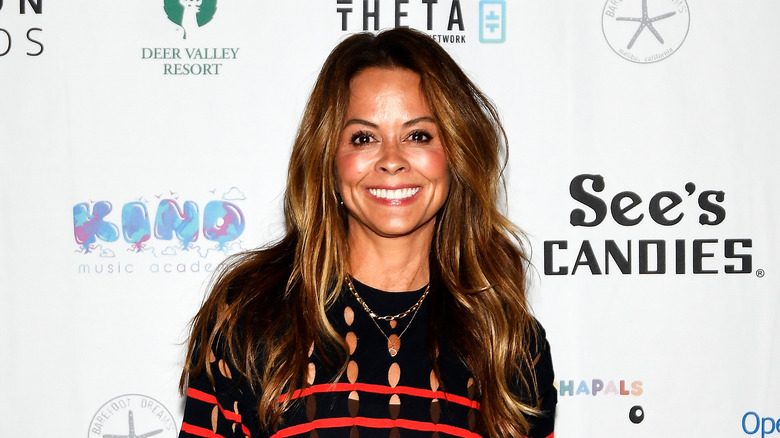 Starting with the health supplements, what initially sparked your interest with Tru Niagen and what got you interested in pursuing this path?
Great question. I actually have been taking the supplement for over five years before we were working together. I feel fortunate in my life and career to be able to partner with friends that I really like and there's authenticity. People know that and smell that. This is something that I truly do take. I spend so much time working on health and wellness and mindfulness, but I'm also super aware of what I put in my body as much as the way that I treat my body and the way I train my body. It's really hard to [decipher] all of the media and advertisements and there's all these marketing products coming at us to be this magic pill and something that's going to be the anti-aging secret.
I don't really subscribe to all that, but what I do really believe in is cellular repair and cellular metabolism. Tru Niagen is basically a supplement for the cells that helps improve NAD levels. We're born with NAD — I won't geek out on the science — we produce less and less of it after the age of 40, 50, 60, so on. This is something that actually is really good for cellular metabolism. They just launched Tru Niagen Immune, which is the first ever supplement to have an NAD booster and also have all the other good stuff in there that I take. I've been taking vitamin C, vitamin D, zinc. We all have been for the last few years. You should see the handful of pills.
Now they've got all of those things, including a turmeric component, [with] really high quality ingredients. They've got a D3 that comes from algae, super high quality. They've got all these — D, zinc, C, the turmeric, and the NAD booster in one supplement. Plus, they've got research studies, they just got the Goop seal of approval, which is cool. I always tell people, "Know what you're putting in your body." Is there a secret and some magic pill? No, but are there things that are going to help our overall wellbeing and improve our overall health? Even heart health in combination with exercise and all these things really matter.
You mentioned heart health. Heart disease is one of the leading causes for death for women, which is something that a lot of us don't really think about, or don't think about nearly early enough when we could be doing something to really focus on our internal health, as well as our external health.
It's so true. We don't hear about that a lot, and I've been an advocate for women's health ever since I was diagnosed with thyroid cancer, which, I'm good now, but I like to share things that I'm really doing. Brooke Body, my wellness business, is so much more than fitness. It's for the head, it's for the heart, it's for our overall mindset, our wellbeing. We need a reset and we need to recharge. We're more conscious now, as a society.
The media personality reveals what it was like to be diagnosed with cancer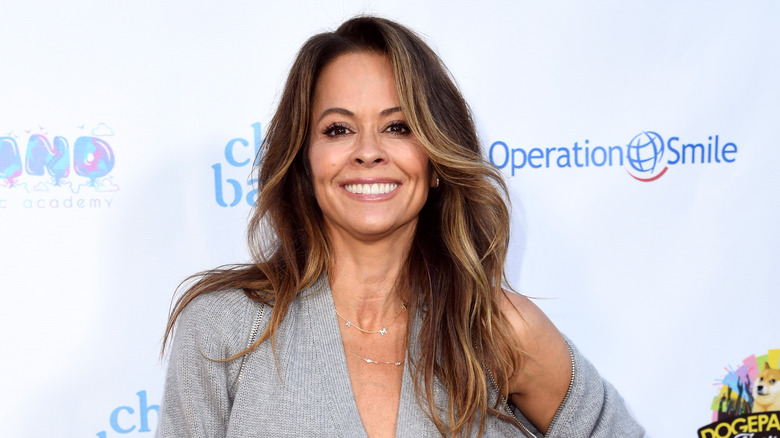 Your cancer journey, that's incredible that you've recovered from such a stressful strain on the body. What has that been like for you to explore these new supplements and one that you're clearly very confident in?
It really showed me that sometimes … Because I was shocked to hear the word "cancer." I take such great care of myself as much as I can, but sometimes, there's something greater and bigger than us that comes along. It's really about the journey of how you deal with it and being a great patient and putting together a respectable medical team. Don't skip your yearly physicals. Don't skip your mammograms. We have access to so much information. The more we know about our body, the more we can take care of our body. Bringing it back even to fitness, people are like, "I don't have time."
I always say, "You don't have time to not work out." Let's get real, in a tough love space. We don't have time to not take care of our body. The shift in the last few years has shown us that we don't have to spend a lot of money, you can go on YouTube and get free content. My app's free for a week. It's like a nickel a day, who cares? You can stay at home. You don't have to get in the traffic. You can work out in your office using a chair. You can use your living room. You can stay in bed and be mindful for five, ten minutes in the morning.
There's so much. Look at Headspace, look at the Calm app. All of these things have shown us how we can combat stress and take better care of ourselves efficiently. We always say, "Sweat Smart" at BB Body and that means being conscious of what you're spending, how you're spending it, what you're doing with your time, who you're spending it with.
A 20 minute walk in the morning, as well, around the block is… It's little steps every day that –
It's the greatest form of exercise, walking. People are afraid. I did a radio spot for Skechers. I do a lot of work with them. The question was, "Do you know what the number one form of exercise [is]?" I'm giggling because I didn't know it, either. It's walking. I was like, "People are afraid to start something." They don't know where to begin. They feel like they've come too far on the other side. I'm like, "Start today, start small, do something. Don't be afraid to screw it up. Doesn't have to be perfect. Fail."
Brooke Burke reveals what sets Tru Niagen apart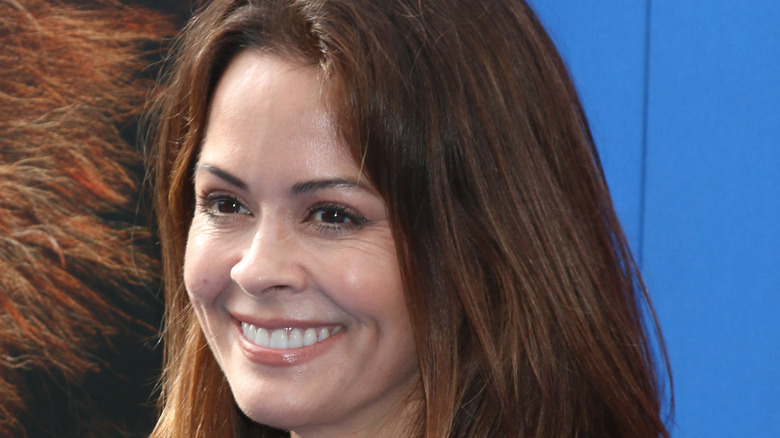 You've mentioned it a little bit, but what does Tru Niagen Immune accomplish that we haven't seen on the supplement market before?
Tru Niagen Immune is the first-ever immune health supplement with NAD+ support via Niagen. I like the quality of ingredients that are going in it and that it's D3 and that there's two different forms of zinc in there, but it's all packaged up in one, which is cool. I've been taking the Tru Niagen NAD booster for a while. This is super improved, so [you're] getting your two for one. Even though I'll continue taking both personally, I'll do both of them. They're meant to work like that.
We live in a world where people want instant gratification and they think they're going to take something or they're going to suffer for a month and lose that weight. I don't believe in these quick fixes. I believe in the long play. I do believe that we need to build our immunity right now. Wellness, exercise, movement, all of that, a healthy state of mind, all of these things that create feel good hormones, all of these things really matter. We have to be aware of what we're putting in our body, as much as how we train.
It's all about sustainability as well. Little steps every day are going to be so much more impactful than trying to go for a five mile run and then not being able to move the next day.
I think so, and that's why I choreographed a lot of really short burns on the app, which I used to not believe and I used to laugh at these five, ten-minute workouts, but you don't have to spend more than five minutes on your abs. I can't tell you what works for you. You have to decide what kind of time you can devote to your own body and your own goals and what [those goals are]. I believe in five minutes in the morning. I like ten-minute body sculpting in workouts. I like a full body if time allows. Life is happening for all of us, you got to carve out time for yourself. Just do it.
Brooke Burke recalls her time competing on Dancing With the Stars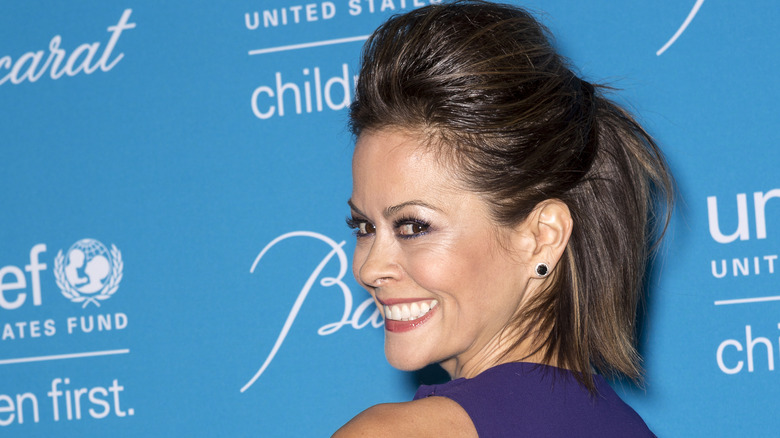 I want to talk to you a little bit about your career [on "Dancing With the Stars"]. Take me back to that competition. What was it like to challenge your body in such a unique way?
The scariest part and, simultaneously, most thrilling part of that show was getting out of my comfort zone and doing something I've never done before. [It was]] terrifying, truly. At the same time, I grew so much as a woman because it taught me how to train like an athlete. It taught me how to face fear. There was a dance in the semi-finals that I've completely forgotten. I got the worst scores of all time on the show in the semi finals.
I was like, "I'm never going to go up there." It really taught me how to dig deep. I had to do two dances that night and we got perfect scores in the second dance, even though I didn't think I had it in me. It taught me all these life lessons that athletes live by. They know how to train. They know how to face the fear and show up for themselves. Those lessons, I applied to my life going forward, and I like to do scary things.
Yeah, definitely. "Dancing With the Stars" is … people might look at it and think like, "Oh, well it's dancing. It's going to be fun." [Coming] from a dance background, it is hard. The training every day, the cross training involved, the physical boundaries that you were pushing on a daily basis, unless you've gone through a similar experience –
I love music. I like to dance for fun. [It's] the shock to the body and the training and realizing that, and I say this to my children all the time, "If you do something every day for eight hours, you will learn how to do it." Pushing through the other side of muscle fatigue and emotional exhaustion and –
It's real, it's hard.
It's so real. That's why people really enjoyed the show back then, because you got to see people that you thought you knew uncensored without their entourage and in their uncomfortable space. You really came to love them. It got real honest, really fast, but I loved it. I remember winning with Derek [Hough]. It was his first mirrorball and he's such a badass now, I have such respect for him. I remember being on his shoulders and holding the mirrorball trophy above my head. In fact, it sits right here in my office. People want to see that more than they want to see anything in my house. I remember crying and it wasn't because I was so happy I won — I was so happy it was over.
Yeah, relief.
It was so hard. I'm really proud of that accomplishment. It's goofy, but I am.
What was it like for Brooke Burke to transition to DWTS co-host?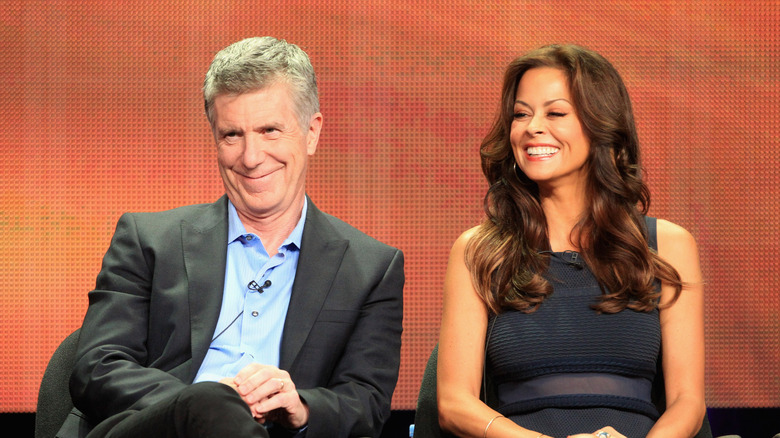 How did [your transition to a co-host of "DWTS"] that come about and what was that experience like for you?
Having danced on the show was the greatest gift that I could have brought to my hosting skillset because I love live television. I'm very comfortable in a live space. I'm very comfortable when things go wrong. I like spontaneity, but having been on the other side of the ballroom, and knowing what it's like to compete, the challenges, the exhaustion, the mind f***, all of it really helped me as a host to understand what the competitors were going through. Sometimes, in live television, as a host, you have an agenda. I brought, to the table, both sides of it. It helped me be a very connected, compassionate host, and I don't always get that.
Yeah, definitely.
I may have no idea about the platform, the space that I'm in, and it doesn't mean that a host can't do a great job in that space, but I was really connected to that show for obvious reasons. It was awesome.
Do you have a top five highlight maybe from your time as a co-host?
God, there were so many. It was really like going to a concert and a Broadway show at the same time every night.
What a good combo.
Television is so unique and there's not much of it that's really live. We were really live, but it was incredible to have people like Adele and Stevie Nicks and Bruno Mars, amazing, epic people on the show singing to a studio of, I don't know, 500 people. The big glitz and the glamor and the lights and the costumes, it was –
It's otherworldly.
It was thrilling. I honestly have not been on a show like it since. I hosted "Rock Star" before that with Mark Burnett, and that was also an epic rock and roll show, but the glitz and the glamor of the ballroom and connecting with America — that was before social media ,when I danced. It was like a whole other world. When was there a world without social media?
Brooke Burke reflects on Dancing With the Stars today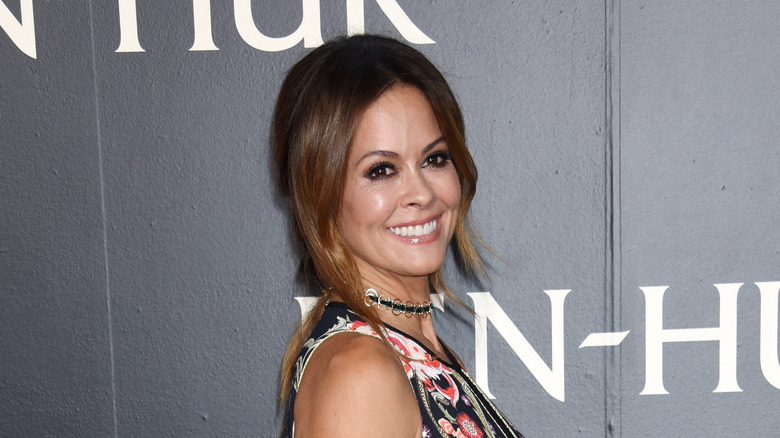 I'd love to know if you still watch ["Dancing With the Stars"].
I don't, and most of the people that I worked with are not there, on all sides, production and talent. I had so much, I did so much and I experienced so much that in the departure I needed to take a pause.
Have some healthy boundary.
It was a long pause. They've gone through a lot, you know?
It's definitely gone through a lot. Host change. I'd love to know if you got to chat with Tom [Bergeron] after his very shocking departure from the show.
Tom and I stayed in touch, and there were so many shocking departures on the show, including mine. [Another shocker] is on the show, including Tyra [Banks]. There [were] so many unexpected things. A host runs their course on a show. My departure was bittersweet because it was unexpected, but it really forced me to figure out what was next and allowed me to do a lot of other things. When you're on a show for so many seasons, you become complacent a little bit and robotic a little bit — not in your skillset, but it's less exciting.
Less challenging, maybe.
Less challenging. It was great for me, in a lot of ways. The show has changed. It's really different. I know, publicly, people did not embrace a lot of those changes and I get it.
Yeah. It's changed a lot. I was even trying to think of some of the pros that used to be on there. Louis [Van Amstel] was on there, who's not there anymore.
We all grew up, [including] Maks [Chmerkovskiy]. We're seeing Maks right now in the Ukraine. It's unbelievable. What's going on? We grew up and everybody had a family. I had a family back then, but somehow we grew up.
It's wild — I was thinking about … I watched "So You Think You Can Dance," which has been on a hiatus for such a long time too.
They're all also great.
The talent is insane, but as you said, life goes on. It's weird to think back on all of that.
It was an amazing platform, certainly for a pro dancer, which … What does life look like for that? I think it married entertainment, moving on.
Brooke Burke reveals how she really feels about turning 50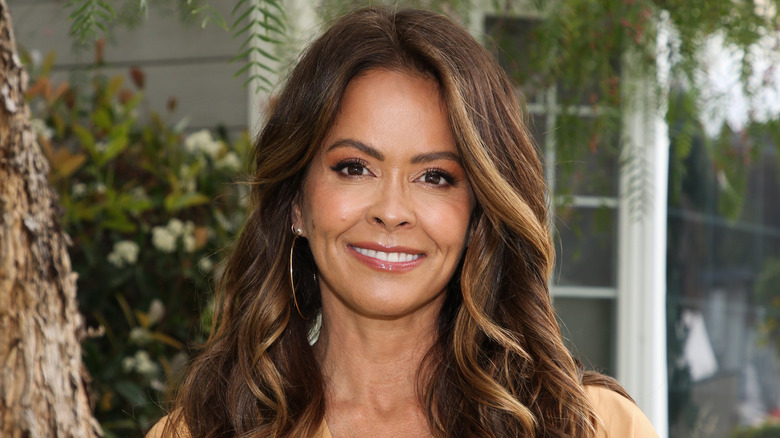 Last year you turned 50. Congratulations. I'd love to know your thoughts on turning 50 and what you're hoping to accomplish professionally and personally in this new decade. I feel like in pop culture, for so long we've said, "Well, once a woman turns 28, it's all downhill from there." You're such a living embodiment that [it's] absolutely not the case.
Well, I appreciate that.
I wanted to hear your thoughts about that.
Thank you. Turning 50 was a little bit of a mind f***. I always try to partner up with Mother Nature. I feel better today in my life, to be honest, than I ever have, so that's the good side of it. Wisdom, understanding my body, learning, being more open, understanding the value of positive self-talk, all of the things that I [use to] guide and teach other women. I've done a lot of transformation retreats that I've led and choreographed and I've learned a lot along the way from other women. One of the most valuable things that I have learned is the power of embracing and surrendering to what is.
50 opened up a lot of new possibilities — new love, a new blended family. I'm in an incredible relationship that I probably wouldn't have been ready for and had the ability to cherish the way that I did as a younger woman, new stages and phases with my children. In the professional space that I'm in right now, in the body, in the mindfulness space — I like to call it mindfulness because it's more than fitness — I'm really learning female demons and what women go through and what's on the other side of that. What happens when we can embrace ourselves and have self compassion and be loving and kind, and the value of a female tribe and other women?
It's a really beautiful time, I think, to be a woman at any age. I'm raising three daughters as well and I'm trying to teach them that also, to live a purposeful life. I feel like I hadn't really thought about it, so let me see if I can speak thoughts and bring some sense to them. 50 is like finally becoming a woman. I finally am getting my moment that's for me, because so much of my younger years were about building a family, raising children, and a lot of them, having multiple shows and building my career in the entertainment business and then starting over, and then going through a blended family and divorce a few times.
Now, I'm cruising in this space of freedom and it's really powerful. I love 50, and I don't know if I would've said that a few years ago anticipating it. I love it because my children are happy and I have an amazing man in my life and I'm working in a space that I really enjoy. Creating content, connecting with women, influencing women in the wellness space is really gratifying for me. I feel lucky when I get to go teach my classes. I didn't think I would be a fitness instructor or whatever you call me, it's so weird, it happened and I love it.
The model gives insight into her wellness and fitness venture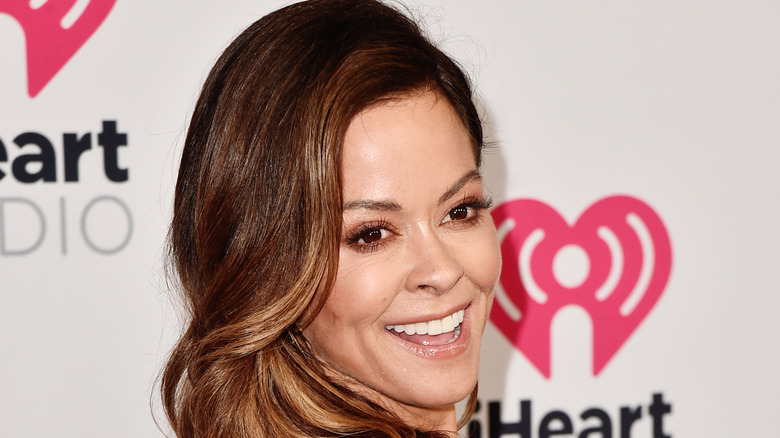 It's actually a perfect segue as well because I wanted to ask you about Brooke Burke Body.
[Picks up wine glass] I'm not drinking wine, by the way. I put my shake in a wine glass so I can feel more elegant because I'm trying not to drink this month and it's not easy, so now, I put my shake in my wine glass.
I love it. I did a dry January of sorts and it was great but –
Hard.
My vice is coffee. I'm on a half-caff right now because it's 2:30.
Half caff, I haven't tried that — wait, half-caff? We need energy. I'm not afraid of coffee, but half-caff…
I'm trying to do a half-caff in the afternoon, because someone said to me, "Well, you should switch to tea in the afternoon." Not my scene. No. Nespresso has half-caffeinated coffee pods and so far, I'm liking it.
I have not seen that. That is actually really cool. I wrote that down, half-caff. It is a habit. So much of what we do in life is a habit anyway.
It's so habitual. I've been trying to be more mindful about self-care and wellness. To your point, habits are so powerful. It takes about, what do they say, 20 days to a month to really establish a new habit? I feel like that's such a powerful thing. If you can get through the first month, then you can integrate some amazing things into your life.
I'm so glad you said that because it's true, and it gets easier and the first week is really challenging. We've got 28-day programs and certain challenges that are spelled out so you don't have to think. The more you do it, the more you want it. Once you get through that burn zone, you do a lot of stretch and recovery on off-days to help you manage the challenge of wellness so that you can crush it and feel that sense of accomplishment.
For sure. Something to tick off the to-do list for the day. It holds more power than I think we give a credit for.
I'm with you.
We've touched on the programs and structure, but what's it like running the show? You're the CEO. Is that an accomplishment you ever could have predicted for yourself?
I studied business advertising in school. I always wanted to be a businesswoman and then I fell into the entertainment business, so I love that. Let me tell you, what's weird, since you're asking, it's hard to the CEO and then be the talent and then deal with editing. I'm so sick of seeing myself because I'm choreographing in my mind and I'm shooting it, but then I'm editing. I say to my team and they laugh at me. I'm like, "I'm so sick of myself," because it's weird to me.
Like when you hear yourself speak. When I hear myself speak on interviews –
You know what I'm talking about, but it's so important to me and I'm choreographing and building it for the community. It's hard to be the CEO and talent and it's hard to be my own boss. It's a new thing for me as well, managing and leading other people. We're really growing this business for the better good of women. I'm super passionate about that, and this is a space for women, for moms, for different fitness levels, ages, for every body, shape and size.
We do it with a lot of encouragement and compassion, and it's amazing right now in the digital space, because we're on smart TVs. It's not just about tablets anymore. I can come over to your living room, you turn it on, get yourself a yoga mat. I don't care if you're in an apartment or a hotel room or you take it outside. I know we're doing something good and that drives it.
What is Brooke Burke's advice to women of all ages?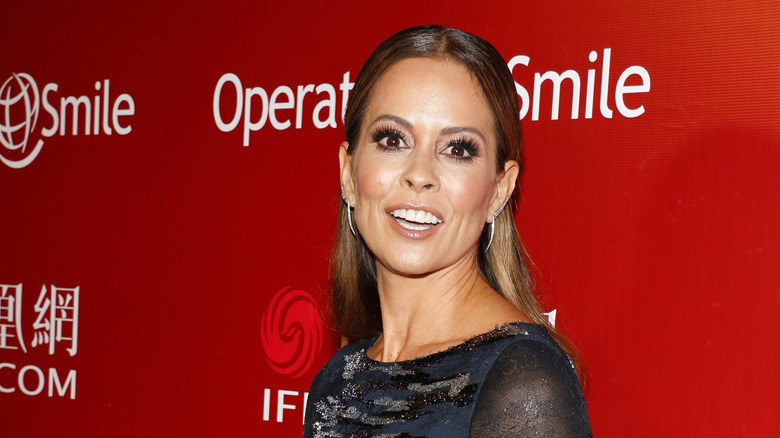 That's actually the perfect transition. If you could give women of all ages, ethnicities, bodies, just a message about like living life to the fullest as a woman, what would you want to tell them?
Really simple. "To all women at all stages, it's not geography, it's not economics. We all have common denominators. Find what feels good and stay away from what feels bad." I've heard brilliant minds share the most elementary concepts with young children, and I'm like, "Why are we overcomplicating it?" Stay away from people that make you feel bad. Don't do things that make you feel bad. Get rid of toxic energy. Don't choose a career path and stay in it if it makes you feel bad.
Sometimes, we have to sacrifice, but I would say, "Find what feels good and do it." When it comes to health and wellness, the more we do that, the better we feel. The better we feel, the more we do. It's very infectious. Share it. We've shifted consciously, so we're so much smarter than we used to be in the wellness space. We have access to beautiful things and research. Find what feels good.
Tru Niagen Immune is now available at truniagen.com. To learn more about Brooke Burke Body, Brooke's latest ventures, and more, visit her website at brookeburke.com and follow her on Instagram.
Originally Published on thelist.com